CLE: The Cyber Threat – What Lawyers and Clients Need to Know
In conjunction with the Florida Bar's Federal Court Practice Committee, on Thursday, February 1, 2018, at the law offices of Akerman, LLP, we hosted a CLE approved presentation attended by almost 60 people in person and more via the web, from top experts in cyber security and computer crime concerning what lawyers and clients need to know about the cyber threat.  Our panelists were Silka Gonzalez, Founder and President of ERMProtect, and Assistant United States Attorney Aurora Fagan.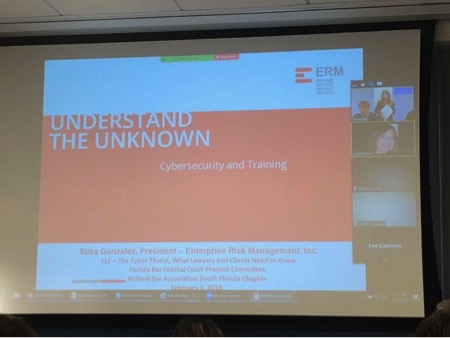 Ms. Gonzalez kicked things off, discussing various topics including the most serious concerns for organizations such as intrusion and internal breach.  She discussed the effect of data breaches on law firms, and current security trends and threats.  She touched upon key technology where security is affected, such as the cloud, the internet of things, data analytics, voice recognition and virtual technology.  Ms. Gonzalez stressed the potential pitfalls of up-and-coming technology, particularly relating to the internet of things and blockchain.  She then gave an overview of who the attackers are, both national and international, and external and internal to companies, and then reviewed organization and individual readiness issues, as well as security control consequences.
Ms. Fagan followed with a comprehensive overview of several federal computer related crimes.  Ms. Fagan emphasized that it was important for companies who believed they have been hacked to reach out to law enforcement to share information with them and see how law enforcement could assist.  Ms. Fagan discussed an Instant Response Plan in the event of a breach, and went through best practices in the event of a discovered breach.  She explained about the recent emphasis more on encrypting data once hacked, and also discussed the increasing level of sophistication of hackers she has seen throughout her extensive career in this field.  Ms. Fagan discussed the various ways one can minimize the risk of outside threats, and detailed the infrastructure federal law enforcement has set up to assist those that have been hacked.
Ms. Gonzalez and Ms. Fagan were kind enough to answer questions from the audience at the conclusion of their presentations.  Thank you to our panelists and thank to everyone who attended!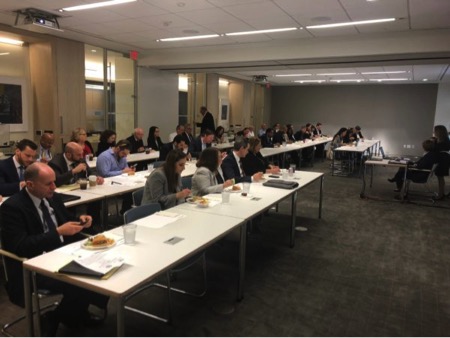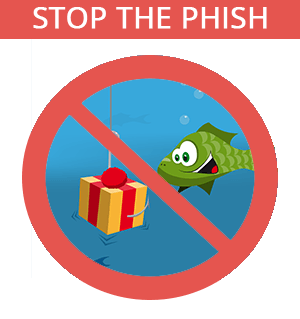 Turn your employees into a human firewall with our innovative Security Awareness Training.
Our e-learning modules take the boring out of security training.

Get a curated briefing of the week's biggest cyber news every Friday.
The city of Coral Gables today presented ERMProtect Cybersecurity Solutions with a Certificate of Recognition for contributing to the economic growth and success of the "City Beautiful." …
ERMProtect's new Cryptocurrency Investigations and Compliance services positions the firm to help law enforcement agencies, financial institutions, and private clients lift the veil on crypto transactions …
We have launched Stingray, an easy-to-use, fully automated phishing simulation tool that helps organizations harden their defenses against phishing attacks …